Day of Prayer Over Students Across Alabama 2014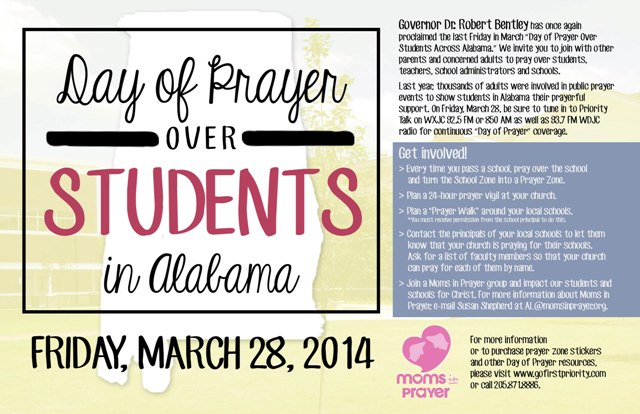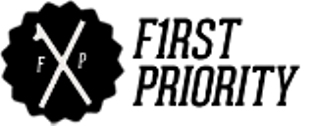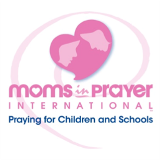 Day of Prayer Over Students Across Alabama
Friday, March 28, 2014
Rejoice always, pray without ceasing, in everything give thanks; for this is God's will for you in Christ Jesus. ~ 1 Thessalonians 5:16-18
The last Friday of this month, March 28, will mark the Ninth Annual Statewide Day of Prayer Over Students. At the request of First Priority, Governor Bob Riley proclaimed the First Statewide Day of Prayer Over Students in 2006. Since then, thousands of adults have been involved in both private and public prayer opportunities in spiritual support of students in Alabama. First Priority, joined by Moms in Prayer, will once again be coordinating this prayer emphasis encouraged by the recent proclamation of our current governor, Dr. Robert Bentley.
Praying for the students in our area is not just a privilege…it's a necessity. Students live in a tough world! Each day, students are subjected to literally thousands of offensive images and words. They also face an enormous amount of peer pressure to become part of what is considered normal by the world's standards. Without prayer, these students will not be able to stand against the insurmountable odds they will face from childhood until they leave this world. Will you join us in praying for our students?
We would like to invite you to get involved!
There are multiple ways you, your church and community can get involved with Day of Prayer. The following are just a few:
- Become a Prayer Zone Partner and encourage others in your church and community to do the same. Every time you pass a school, pray over the school and turn the School Zone into a Prayer Zone. We have static-cling prayer zone stickers available for purchase. These will remind you to make a school zone a prayer zone. Contact us at 205.871.8886 if you would like to purchase prayer zone stickers.
- Plan a 24-hour prayer vigil at your church.
- Plan a "Prayer Walk" around your local schools. You must receive permission from the school principal to do this.
- Contact the principals of your local schools to let them know that your church is praying for their schools. Ask for a list of faculty members so that your church can pray for each of them by name.
- Join a Moms in Prayer Group and impact our students and schools for Christ. For more information about Moms in Prayer, e-mail Susan Shepherd at AL@momsinprayer.org.
Commit now to join with other parents and concerned adults to pray over students, teachers, school administrators and support staff, and schools on Friday, March 28. We have numerous resources below to help you, your church and community get involved. Tune in to Priority Talk from 1-3 p.m. on 850 AM and 92.5 FM as well as 93.7 WDJC Radio on March 28, for continuous Day of Prayer coverage.
Day of Prayer Resources
Please find below numerous resources you can use in your church and community to help make people aware of this special and important day:
* Moms in Prayer offers multiple prayer resources. You can also sign-up to receive a daily scripture prayer to pray over students. Click here for more information and prayer ideas.